Motion technology for early stage detection of dangerous situations
This unique combination of infrared technology, dedicated software and wireless technology has proved to be a reliable and flexible alarm system in the prevention of falls. The Optiscan sensor is placed on the floor and views the space under the bed. The Optiscan is adaptable on all systems in every setting. It detects when a client is trying to get out of bed at a very early stage. In case of an alarm, a signal is sent to the nurse. This early alarm signal gives the nurse the opportunity to respond swiftly, so serious harm can be prevented. Solid research has shown that with the use of the Optiscan, the number of fall incidents can be reduced considerably. In practice, it appears 85% of the clients are still on the edge of the bed when the care staff arrives in the room. Optiscan's benefits to the client and the experiences of care staff have contributed greatly to its success. But there are more advantages: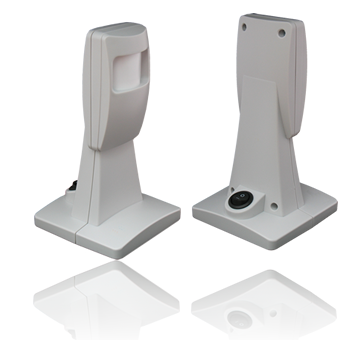 10 reasons why the Optiscan provides the best solution!
By analyzing practical experiences of caregivers we can provide additional Optiscan features.
Reduces the number of falls
Recovers the natural day and night rhythm naturally
Prevents unwanted behaviour of the clients.
Gives more information about the clients night behaviour
Controls wandering behaviour
Is a great alternative for fixation
Prevents human suffering
Reduces workload and increases patients privacy
Time saving and therefore cutting costs
Stimulates patients to wait for guidance