About Daza
Daza Opticare B.V. is a company which develops and produces electronical devices for healthcare. The company was founded in 2000 by Carlo Danen and Wim van der Zande to provide a solution to the growing number of fall incidents amongst elderly people. Encouraged by good results and the acknowledgement of professionals in health care, Daza has become market leader in the Netherlands in the field of electronic fall prevention and patient safety. When you want to prevent or detect dangerous situations for the elderly, you've come to the right place. Daza will continue their effort to reduce unnecessary fall incidents and increase the safety of the patient.
Our strength
Applying a thorough analysis within the healthcare sector to discover the real needs and use this information to develop quality products. Our mission is to provide solutions which prevent falls and reduce the workload of health care professionals. The product range of Daza will provide solutions for both intra- and extramural healthcare. Feel free to continue on our site to explore our solutions.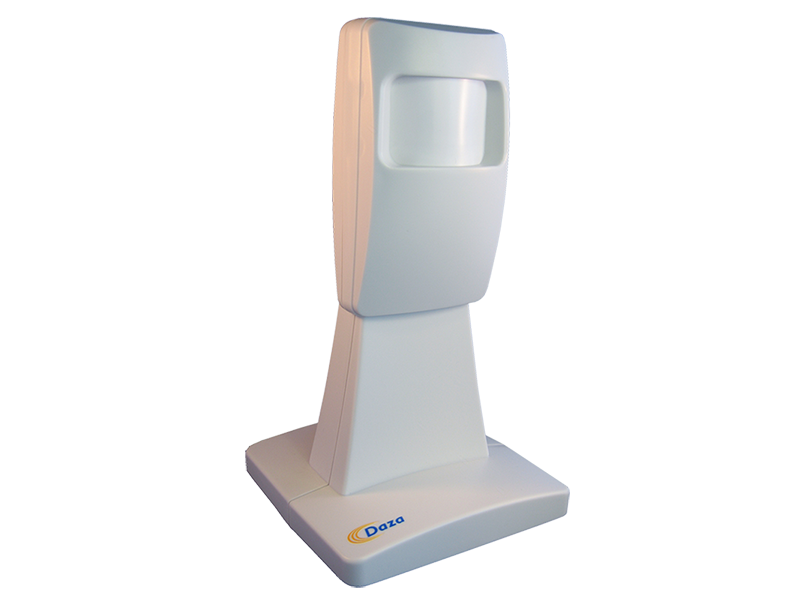 Take a look at our product demo's
Out bed prevention
Wireless Optiscan fallprevention system. An alarm is triggered when the patient is trying to get out of bed.
Standup detection
Wireless chair alarm. An alarm is triggered when the patient is standing up from a chair.
Doorcontact
Wireless dooralarm. An alarm is triggered when the patient tries to open a door.
The Daza systems provides preventive solutions
Restraining patients is often not needed…
Fall incidents in nursing homes often results in human suffering and frequently unnecessarily high costs are involved. The reduction of caregivers and the increase of elderly people result in a higher workload for the caregiver. Too often a choice is made to restrain patients in order to prevent a fall incident. In the Netherlands an agreement was signed in 2011 to reduce the amount of people who are restraint for fall prevention. This is a policy we at Daza support and for which we offer various of effective alternatives. Moreover, we remain active in the development of our products in order to prevent the restraining of patients, both at national and international level. If you have questions about this topic, please contact us.
Nursing homes
A wide range of products from Daza has their origin in psycho geriatric care. The systems provide preventive solutions for a wide range of dangerous situations. We provide wireless solutions which are nowadays more desirable in the healthcare sector. New technology can guarantee that all alarms will reach the right person. Many thousands of sensors are currently present in psycho geriatric institutes, but there is an increasing range of areas (health care areas) using our products.
Hospitals
Hospitals are increasingly recognizing the workload reducing solutions, which fall prevention products of Daza can provide. Academic hospitals (especially the neurological departments), are using our products to prevent falls and reduce wandering behavior. These are just some basic examples how the Daza products are used by professionals. Because of the wide range of possibilities to use the Daza products, more and more regional hospitals become costumers of Daza.
We believe that the future will show even more applications of the Daza systems. Our products will be used by professionals to reduce workload and to increase the quality and amount of healthcare they are able to give.
Mental healthcare
Daza sensors in combination with a pager are used increasingly with disabled clients, clients with wandering behavior and in other situations where there is a quick need of expertised personnel. Daza is always looking for solutions to reduce the workload of health care employees, remaining high quality care.
If you want to receive more information about our solutions, feel free to further explore our website or contact us.
On journey with Daza
The Daza paging system can be very useful on a holiday trip or excursions. Whether it is for a vacation bungalow or a cruise ship. During the stay, our equipment can provide the desired safety without the need of extra caregivers. If you have questions about the flexible use of our products, please feel free to contact us for more information. Good trip!